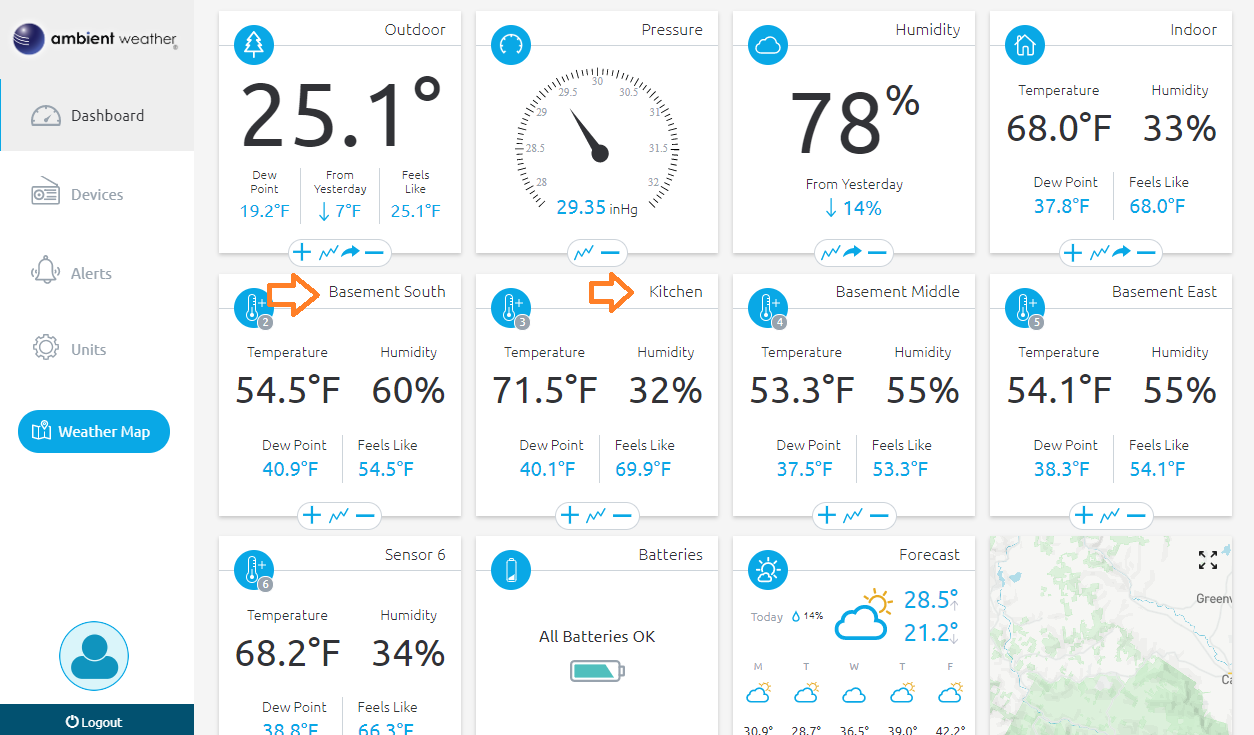 I wanted the ability to track temperature and humidity in different zones in my house using an app or the web, and I wanted to be able to use the data in graphing, etc.
Links to everything on Amazon at the bottom. The rest of the links go to product pages.
Basic specifications I was looking for:
Multiple Indoor/Outdoor sensors
Battery and wall power for the base unit
Central display to view all sensors
WiFi connectivity
Data extraction of some kind
Plug 'n Play
What I purchased and Why
I looked at a lot of options (Ambient Weather, Govee, SensorPush, Acurite, etc.) and finally settled on the Ambient Weather WS-50.
The Ambient Weather WS-2902C with a weather station was a close second, but cost and the number of sensors had me choose the WS-50.
I have to say that it is a confusing mess looking at what is available from most of the vendors. Even Ambient sells multiple weather stations and sensors that seem to do the same thing, but often in a slightly different way.
Take a look at this page for the F00TH sensor: https://ambientweather.com/amf007th.html. Note that it doesn't even list compatibility with the WS-50 weather station.
Also, the firmware on my WS-50 was V1.2.2, but according to the site the latest is V1.2.1.
Anyway, I suspect a lot of their offerings have been around for a very long time and some have been updated, some haven't, etc. Having used Acurite previously, Ambient did make it easy to hook up to the cloud and get your data, and that was a huge deciding factor. It can also use up to 10 sensors:
Up to 7 of the following additional sensors:
The WS-50 comes with 3 F007TH sensors for around $80 and I bought an additional 3. I also looked at the Ambient Weather WS-8482, but I preferred the F007TH sensors instead of the TX-3110B as the former displays Temp, Humidity, and Channel right on the unit itself.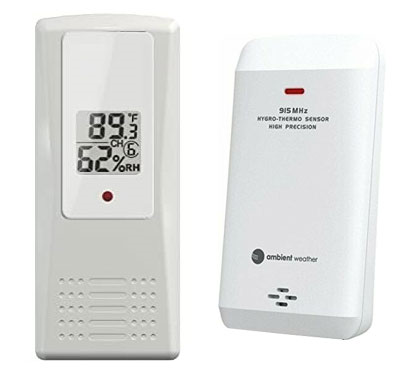 The WS-50 base station is…Ok. Like a lot of the dedicated screens from most manufactures, these are designed to display specific data in specific sections. As you can see, there's a dedicated spot for a wind vane, etc. I might buy that and the companion rain sensor, but I was really interested in temperature/humidity.
I highlighted the two sections I use in blue. For the top section you can have it scroll through all the sensors, or do it manually. Since I use AmbientWeather.net, I only use this base station for inside temperature, humidity, and barometric pressure (based on the unit itself as a sensor).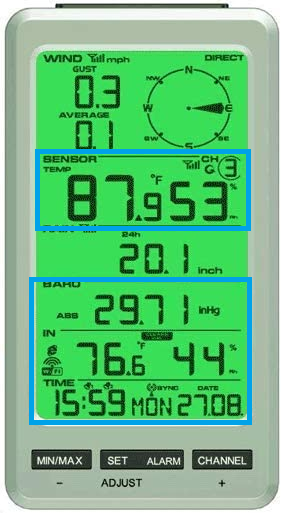 Setup Notes
The instructions that come with the unit include everything you can do with WS-50, so that means wading through all the sensors you can add to it. It is fairly straightforward and had no issues, except for some confusion in the instructions which will help you here:
Read the manual (it's not the clearest manual)
You need 2.4 Ghz WiFi to connect to the Internet, so make sure you don't have only 5 Ghz!
You're going to attach up to 8 sensors to the WS-50
When you open the battery compartment with a small screw driver you set some DIP switches to assign a channel to each. Make sure to open all of them first and make sure there aren't duplicated channels, set them, then add batteries.
Channel 1 will always display on the WS-50 and on AmbientWeather.net as the outside sensor.
Get everything sorted on WS-50 and the sensors first, and only then add it to AmbientWeather.net
Sit all of the sensors next to each other for a day and compare results, then move them all to another location and see how they respond – give them at least an hour to adjust in the new location. RMA anything that is off, although their instructions do say that +/-5% in humidity or temp is acceptable and you just need to adjust the WS-50 to accommodate this difference (not to me – I just RMA'd one sensor because I want it all to be very consistent).
AmbientWeather.net might take a while to register all the sensors
AmbientWeather.net
Using ambientweather.net allows you to feed, store, and download all of your sensor data. While adding your device, you can also hook it into PWS, Weather Underground, set Amazon Alexa skills, Google Assistant, and IFTTT.
Here's a screengrab of it in action. What's nice is you can rename the sensors (indicated as examples with the orange arrows). You can also see the general battery health.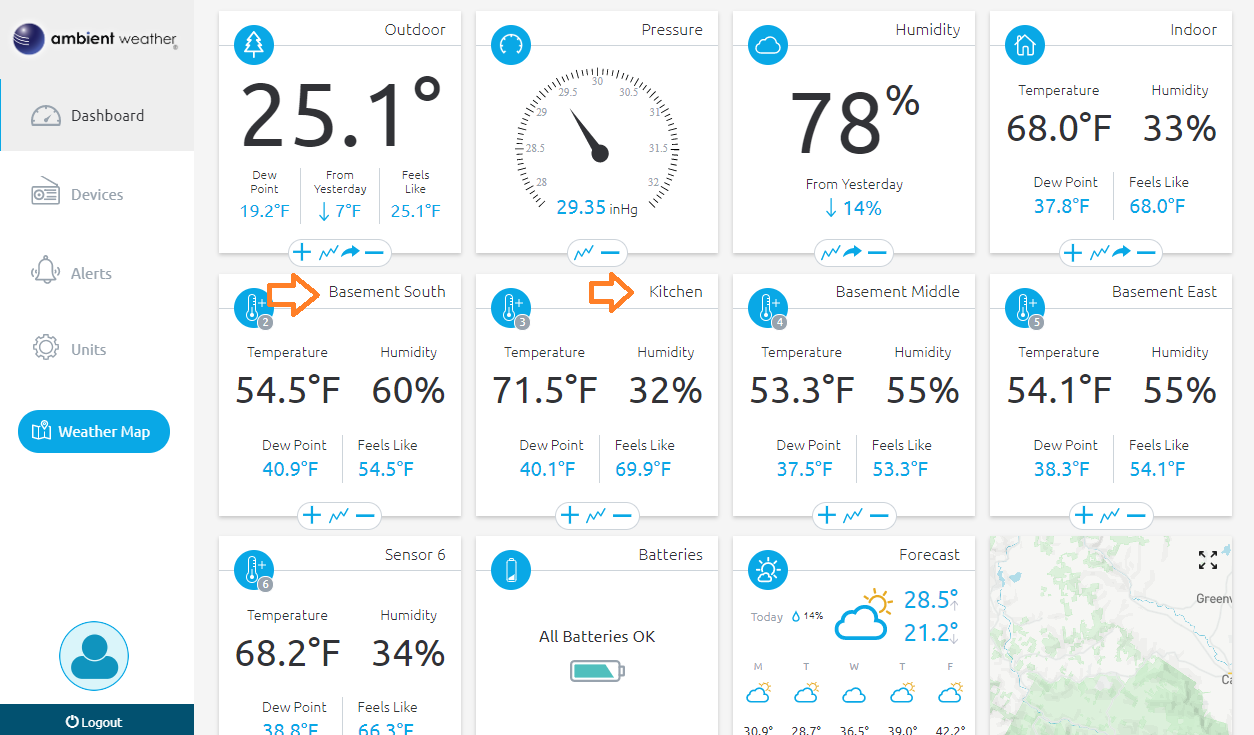 There's also a phone app which is handy, too, although you can use a phone browser for just about the exact same experience:
Download data
Downloading data is really simple
Click Charts & Graphs, Choose date range
Click list view
Click the download
Select what data (this can be a LOT of data)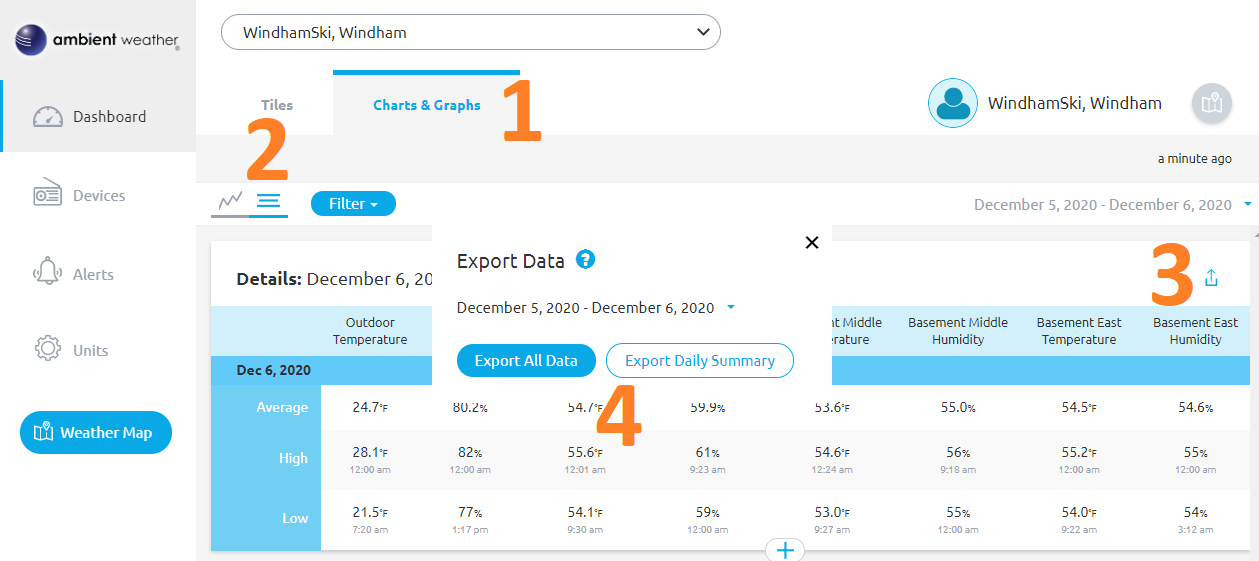 The csv file is perfectly formatted and Excel has no issue with it

That's it – great product for about $100! I did send a couple emails to support and got responses within about hour, so that seems to great, as well.
Amazon Product Lists
Some of the links are mixes and matches as they might not have each individual sensor, i.e. might be a link to the WS-50 with, say, the rain gauge.
Up to 7 of the following additional sensors:
Summary
Overall, I think Ambient Weather does it best in terms of getting your data out, if that's what you're looking for. Also, for the price/feature point of the WS-50, I think it's a great deal.